Giving gifts to your Followers in Cult Of The Lamb will not only make them more loyal, but it will also give them magical powers!
In Cult of the Lamb, you can give gifts to your Followers to keep them on your side. Followers who have been with you for a long time and whose loyalty has grown to high levels will not only give you more resources, but they will also give you bigger bonuses if you sacrifice them!
Normal gifts can increase a Follower's general loyalty, but the best gifts, the game's five types of necklaces, also give the recipient a small amount of your power. Choosing the right followers to give these gifts to can help your Flock last for generations.
Light Necklace / Dark Necklace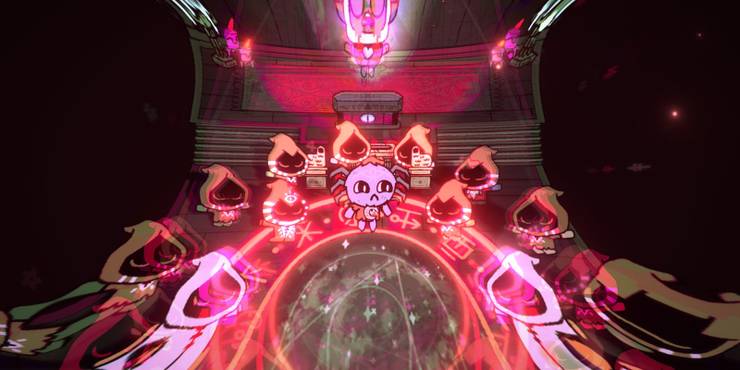 After you finish the main plot, you can trade God Tears for these two necklaces. The other gifts on this list are useful, but the Light Necklace and the Dark Necklace are more like Easter eggs.
If you sacrifice a Follower wearing one of these necklaces during the Sacrifice Of The Flesh Ritual, you'll be able to quickly hire one of Narinder's bodyguards, who you fought before the final boss fight. The Dark Necklace brings in Aym, while the Light Necklace brings in Baal. Except for the way they look, they are just like any other Follower.
Feather Necklace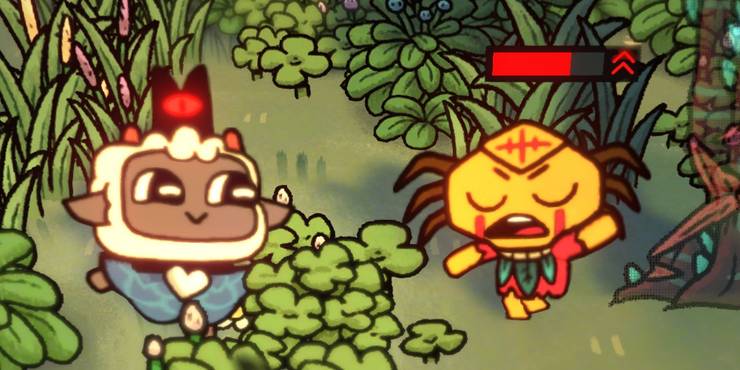 Followers who wear a Feather Necklace will be able to move around the village more quickly. This makes it easier for them to do their jobs and also gives them less time to do things like eat, sleep, and use the Outhouse. It's a small bonus compared to the other gifts, but having a Feather Necklace in your collection doesn't do anything, so you might as well give it to a new recruit who doesn't have any special Traits.
Feather Necklaces can help a badly laid-out village work better, so if you don't like where your buildings are placed, you can quickly fix this by speeding up a few Followers. It also lets the person who wears it get back to work faster if you have to take them away to heal or put them in jail.
Demonic Necklace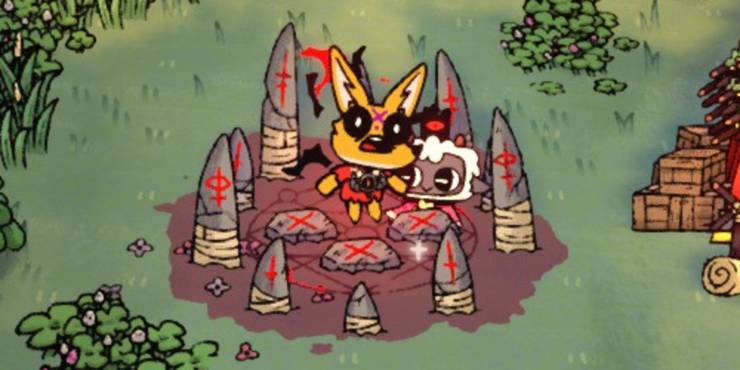 The Summoning Circle is a late-game building that lets you take control of Followers, turning them briefly into Demons who will help you on your next Crusade. The level of the Follower possessed by the Demon is directly linked to the Demon's power, so having high-level Followers can give you powerful benefits in battle.
A Follower who wears the Demonic Necklace becomes a more powerful Demon than their level would allow. This means that you can leave your high-level Followers at home to work and worship without losing their usefulness in battle.
Flower Necklace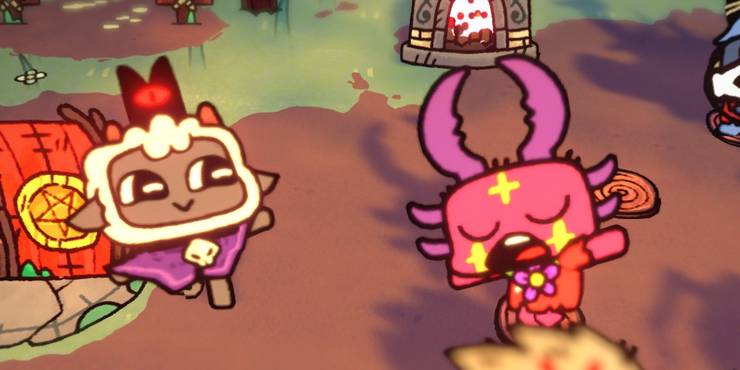 The Flower Necklace seems like a useful piece of gear on paper. When the user prays at the Shrine, they get Devotion faster. This lets you unlock buildings even faster. Give it to a cultist with the Faithful Trait and your total Devotion income will get a nice boost.
Unless you plan to camp out by the Shrine and collect Devotion as it comes in, the Flower Necklace does most of its work while you're on campaign. Most Crusades take long enough that your Shrine will be full before you come back, leaving your Followers with nothing to do until you return. Because of this, you should use the Flower Necklace when you can't send many people to the Shrine, like after a plague or other disaster.
If a Follower dies of old age, illness, starvation, murder, or exhaustion, you can take their chain back after preparing their body for burial. This will cost you a little Faith, but you can then give the necklace to someone else. When a Follower is buried with their necklace, the survivors are happy, but they will never get the necklace back.
Followers whose necklaces are lost when they ascend, are sacrificed, or die in a Pit Fight cannot get them back.
Missionary Necklace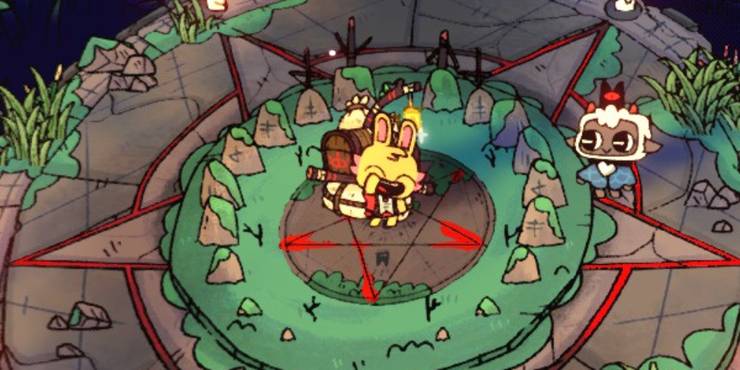 You can send Followers out to find materials by using the Missionary building. It's a cheap way to keep your store full, but every time you send a Follower out, you risk losing them because the lands of the Old Faith can be dangerous.
When sent on a journey, a Follower with the Missionary Necklace brings back more supplies and is less likely to die. With this necklace, a Follower of level 5 or higher is sure to make it through almost any trip.
Loyalty Necklace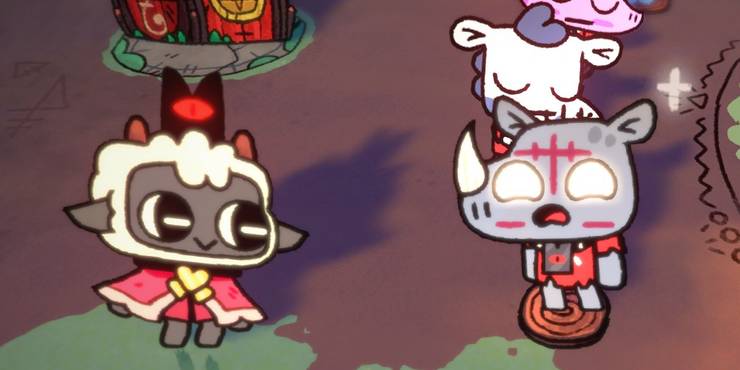 As its name suggests, the Loyalty Necklace makes the person who wears it get Loyalty faster. When the Follower would usually gain Loyalty from Sermons, Rituals, Blessings, or any other source, they will gain 25% more than they would normally.
The Loyalty Necklace is a great way to quickly level up a new Follower or get an old Follower to a higher level. It's especially useful after the game is over, when you need to sacrifice Followers of a certain level to unlock more powerful Crusades.
Moon Necklace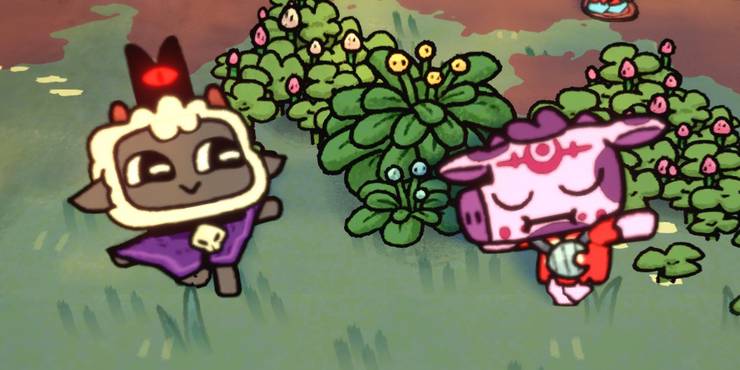 The Lamb would have the Flock think that the faithful never get tired. The truth is that your Followers still need to sleep every night, and if they can't, they will become Exhausted. They also get cranky if their sleep is broken or if they don't have enough places to stay. This could cause cultists to disagree with each other.
Followers who wear a Moon Necklace no longer have to sleep. Instead, they can do their jobs all night long while the rest of the members sleep. This lets you make more resources generally and save money on places to sleep. Don't give the Moon Necklace to a Slothful Follower because they will create 15% less resources and you won't get the most out of your valuable gift.
Followers who are possessed at a Demon Summoning Circle can still become Exhausted even if they have a Moon Necklace. If this happens, tell them to go to sleep until they feel better. If they don't, they won't get better on their own and could die.
Nature's Necklace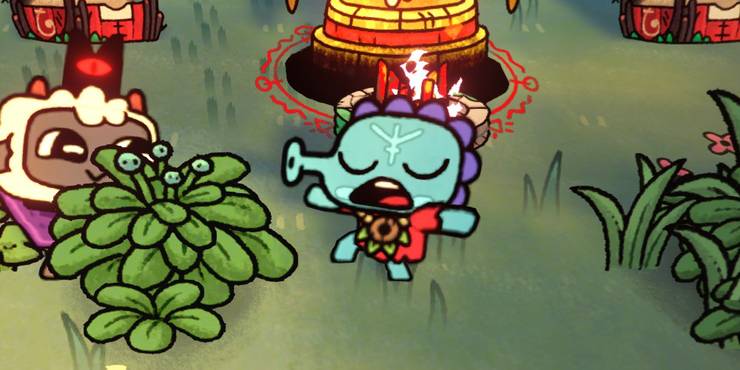 If a Follower wears this green piece of jewellery, they will get more wood, stone, and crops when they chop wood, mine stones, or pick crops. So, the Nature's Necklace is a great gift for a lot of different occasions. Most of the time, the best way to use Nature's Necklace is to give it to a committed farmer, since the extra seeds can be used to grow your farm and rare crops like Beetroots can be hard to find.
Nature's Necklace only affects resources that have been gathered, so if the wearer is set to work at a Refinery, it won't change how much they make. Place a Propaganda Speaker near the wearer's workplace for the best effects. They'll work more quickly and make more.
Skull Necklace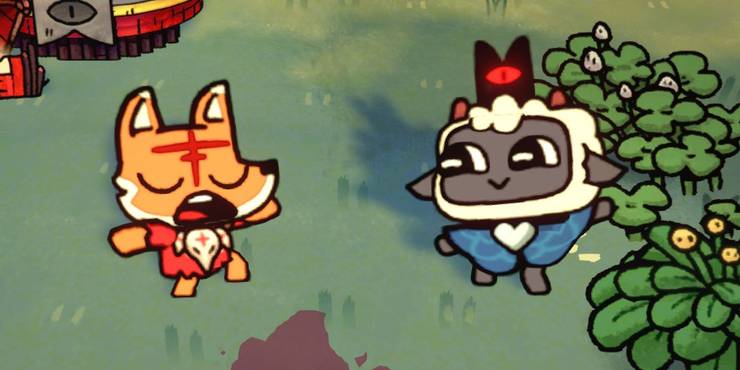 High-level Followers are very valuable, but by the time they hit the highest levels of loyalty, they are probably getting old and will have to stop working. The Skull Necklace makes the Follower who wears it live twice as long as normal. This means that they won't reach Old Age for a very long time, and they'll keep getting stronger as they stay with the Cult for a long time.
If you find a Skull Necklace, give it to your youngest Follower who has good Traits. This makes sure that the person who is wearing it will stay with your Flock for most of Penalty Kick Online game. Once you have unlocked the right Doctrines, you might want to give the person wearing the Skull Necklace the job of Tax Collector or Loyalty Officer to get the most out of them.
Golden Skull Necklace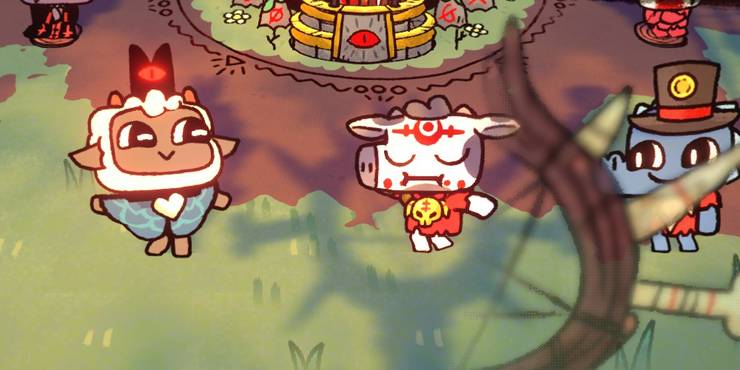 The Golden Skull is only good enough for the most loyal Followers. With this gift, you can keep the promise that the Lamb made to those who are loyal. The Follower who wears the Golden Skull Necklace will never get old or die of natural causes as long as they keep wearing it. Still, they can still go hungry, get sick, or be killed. The Lamb gives, and the Lamb takes away.
The Golden Skull Necklace is best kept for a Follower with traits that are very good. Those who can create Faith without doing anything or who work better than the rest of the Flock and don't have any bad traits should be considered for the ultimate blessing.