60
Hyrule can be a scary place.
Because of the chaos and Ganondorf's return, The Legend of Zelda: Tears of the Kingdom is full of scary monsters that will attack you as soon as they see you. They will use strong weapons, natural powers, and sometimes even throw their own allies at you.
Link has to deal with dangers on the surface, in the Sky Islands, and in the Depths. Many of these dangers have scary plans. Even though common monsters like Bokoblins won't scare you as you explore Hyrule, there are some enemies that will make anyone afraid, whether it's because of how scary they look, how strong they are, or how big they are. No one would think less of you if you ran away from these people.
Toadally Scary: Frox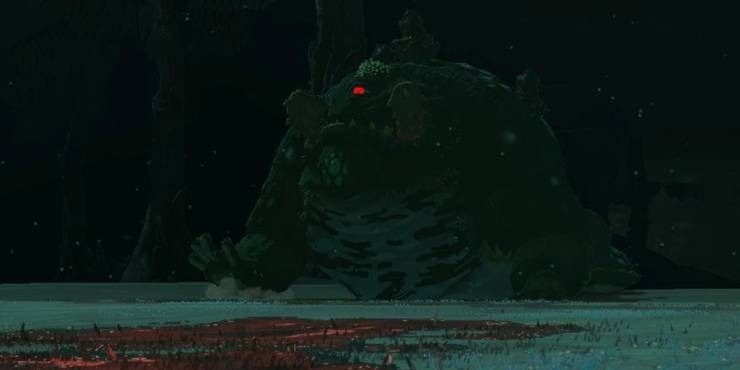 Froxes are huge monsters that look like frogs. They are new to the series in Tears of the Kingdom and can be found in the Gloom-filled deep. The Frox's huge shape in the Depths is sure to be scary, especially when it's covered in darkness and you can only see its huge outline.
Froxes use their huge size to their benefit in battle, trying to squish you under their huge bodies. They also breathe in through their wide mouths, and if you don't run away fast enough, they will eat you. Frox are easy to deal with because you can stun them with an arrow, but you'll never forget the first time you saw one hiding in the dark.
As Horrible As Its Name: Horriblin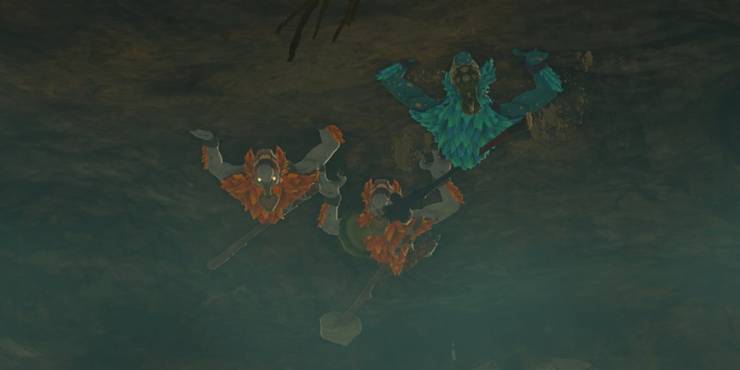 Horriblins are enemies that only show up in Tears of the Kingdom, and they live in caves all over Hyrule. When you go into a cave, you might hear the scary sound of monkey-like laughter. This is a sign that these creatures are hiding somewhere.
They hang from the ceilings of holes with their long claws and throw rocks at you if they see you. They look like the proboscis monkey, which has a big nose like theirs, which makes sense when you think about how fast they move and how they sound. Horriblins can be killed by shooting them down with an arrow. This evens the playing field and lets you attack them without worrying that they will drop on you.
Nature Fights Back: Evermean Trees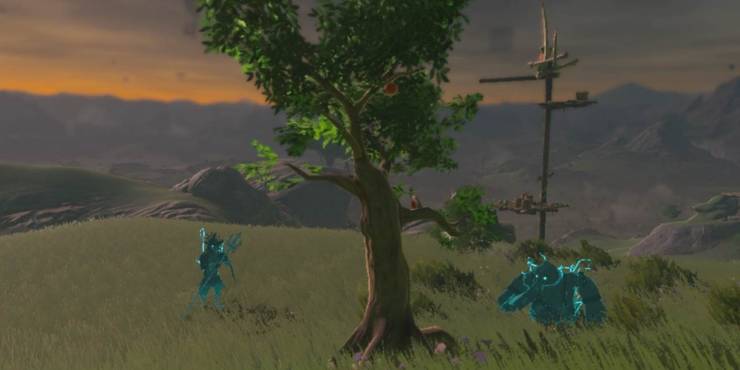 Everlasting Trees live up to their name. Even if you're enjoying a nice walk through the woods of Hyrule, you can't relax because any tree could be an Evermean Tree. When you first see one of these enemies, you might be surprised because they look like normal trees until you get close to them.
This is when they'll pull themselves out of the ground and try to hit you with their branches. Even though Evermean Trees don't look as scary as Gibdos or Gloom Hands, the surprise of having one attack you out of nowhere is enough to make you afraid of every tree in Hyrule.
Back For Blood: Lynel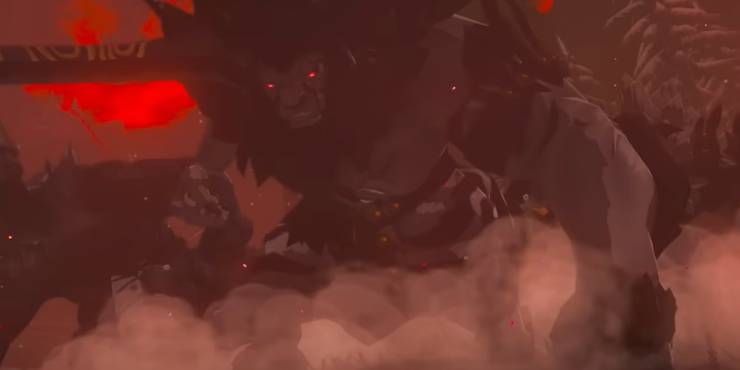 In Breath of the Wild, Lynels were known for being hard, and in Tears of the Kingdom, they are just as hard. If these horse monsters see Link, they will attack him with everything they have. They will use strong weapons to kill him.
The best thing to do is to stay away from these monsters unless you're looking for Lynel loot. They are very protective of their territory and will draw their bows at you even if they see you from far away. To get Majora's Mask, you have to beat five Lynels in a row, which is a scary job when you consider how hard it is to beat just one.
Undead Bugs: Gibdo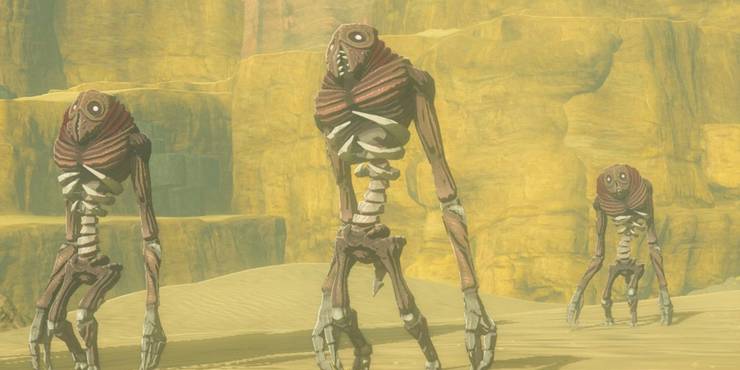 Gibdos are monsters that haven't died yet. They look like skeletons and have bright eyes. In Tears of the Kingdom, the Gibdos are even scary because they look like bugs. Their mouths are like those of beetles, and some of them can fly with moth wings.
You can only find them in the Gerudo area. They come out of hives that look like lotus pods, which are terrifying if you have a fear of bees. Even worse, they can move very quickly when they are on all fours. Normal techniques won't work on them, so you'll need to use damage from elements to kill them. Gibdos in Tears of the Kingdom was just as scary as other versions of him in the stories, but he was also different.
The Return Of The King: Gleeok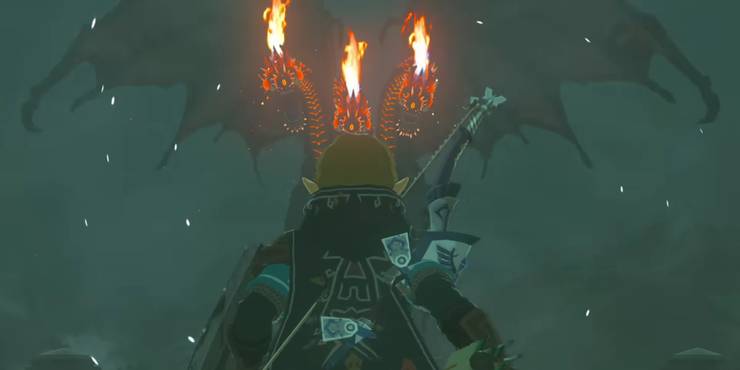 Gleeoks hadn't been in a main Zelda game for a long time, so when they came back in Tears of the Kingdom, many fans were excited. However, when they saw how scary these three-headed monsters were, they quickly changed their minds. Because of how big they are, they are one of the most intimidating enemies in the game.
You'll find Gleeoks with fire, ice, and lightning skills all over Hyrule, as well as King Gleeoks with one head for each element. When you fight any of these dragons, they will attack you with their own elemental attacks, which you'll have to dodge as you shoot arrows at each of their three heads. It takes a strong person to fight one.
Hands Off: Gloom Hands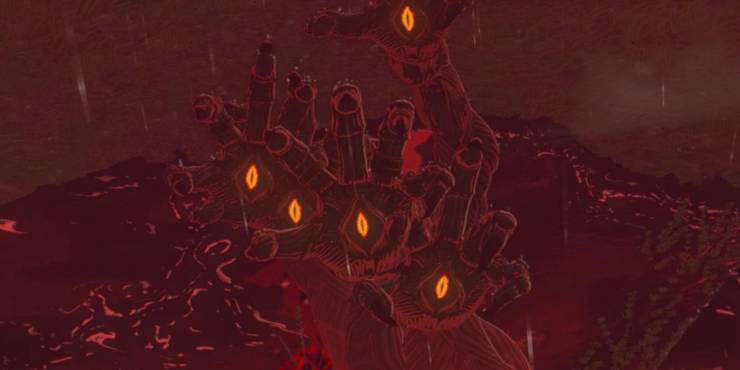 Gloom Hands are enemies that can be very hard to deal with if they sneak up on you. They can appear out of nowhere and grab you, which will use up a lot of your hearts. Even if you don't fight them, they will keep coming after you until they disappear. If they catch Link, they will crush him.
If you try to fight them up close, they will easily beat you because they have so many hands. Your only choice is to find better ground. When they show up in the game, the music and setting change, giving the area a red glow like the blood moon.
The Ghost Of The Demon King: Phantom Ganon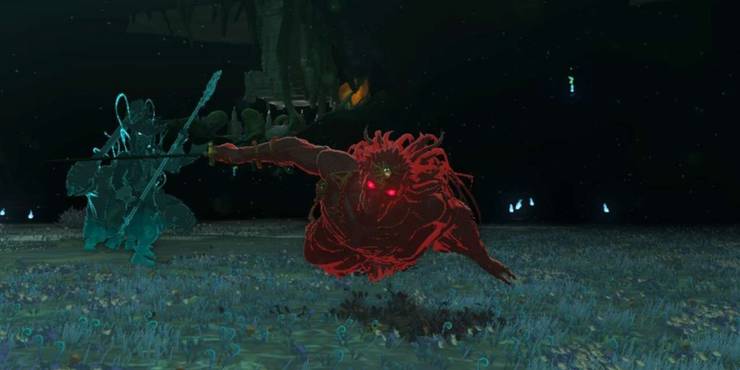 If you thought the Gloom Hands were scary, just wait until you see what happens after you kill them. Phantom Ganon will show up once the last hand is dead. He is a dark version of Ganondorf, the bad guy in Tears of the Kingdom, who was made real by the dangerous Gloom.
Phantom Ganon is one of the scariest enemies in Funny Shooter 2 game because it gives the impression that Ganon is hiding in every corner of Hyrule. He is covered in Gloom, which can make it hard to fight him, and one of his attacks is to fly at you with his weapon. He is much bigger than Link and will make you wish you hadn't killed the Gloom Hands in the first place.